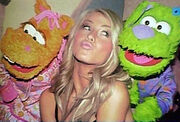 Disney twenty-three is a quarterly magazine started in 2009 by D23, "The Official Disney Fan Club" from The Walt Disney Company.
Appearances
In the Summer 2009 issue, Sweet Pea Sue and Apollo appeared in a photo with Dancing with the Stars' Julianne Hough taken during the Children's Miracle Network Celebration at Disney's Coronado Springs Resort.
Ad blocker interference detected!
Wikia is a free-to-use site that makes money from advertising. We have a modified experience for viewers using ad blockers

Wikia is not accessible if you've made further modifications. Remove the custom ad blocker rule(s) and the page will load as expected.